Mariachi Sol de Mexico recently delighted the audience at the Fox Performing Arts Center; that happy audience included students from Rosemary Kennedy and Lake Hills Elementary Schools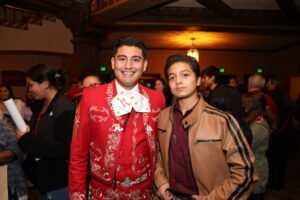 (Alvord Unified School District), Ramona High School's mariachi students (Riverside Unified School District) and mariachi students from the Riverside Arts Academy (RAA).
Special thanks to the Inland Empire Community Foundation for funding the Fox Riverside Theater Foundation's Las Familias en el Fox program, which focuses on providing opportunities at the Fox for Latinx families. Internationally-known Mariachi Sol de Mexico musicians met guests in the lobby after the show, and students were delighted to interact with the performers.