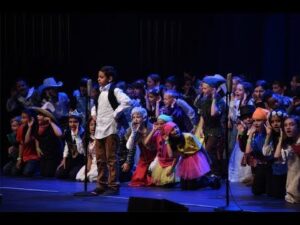 The Fox Foundation works with its community, non-profit, and corporate partners in order to bring a taste of the theater to local area schools, through coordinated assemblies with performing arts professionals touring through the Fox Performing arts center…and also helps brings area students to the stage at the Fox Performing Arts Center through deeply discounted or free access to the venue for school district-wide special events.
In the past fiscal year, the Fox Foundation has:
Partnered for a second year with Riverside Unified School District to facilitate the Riverside Educational Enrichment Foundation's annual "Best Event Ever," bringing hundreds of students to the stage for a variety show, to perform for nearly a thousand audience members. Acts included singing, dancing, and live, on-stage science demonstrations from local area STEM classes

STOMP! Assembly At AUSD's Villegas Middle School

 Sponsored the Broadway tour cast of STOMP! to perform at an assembly for children in the Alvord Unified School District, complete with barrels, drumsticks, tic tac shakers, and a cast chat Q&A. The 300 students were captivated by the crew, who led the audience through their very own rhythmic call and response, similar to what is done in the live, on-stage production.
Facilitated and sponsored Riverside Unified School District's first ever High School Honors Musical, a which brought top high school theater students to the stage at the Fox to perform a special adaptation of Romeo & Juliet, written by a RUSD alum. A feather in our cap is that our very FIRST set of Live Tech graduates were able to work behind the scene to support the Live Nation tech crew in putting on the show – assisting them with lighting, audio, and stage management.

RUSD's Honors High School Musical